Welcome to the Roofing Felt.org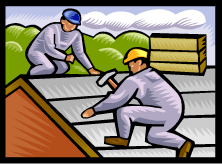 Here you can learn everything you need to know about roofing felt. Whether you just need some quick reference for what it is and why you need it, or if you're a do-it-yourself homeowner and want to learn how to install it, you have come to the right place.
We offer a wide range of information, including a brief history of the development of this material, the different options that are available for roofing felt, and tips for installing it properly.
Learn about the varieties of weights and sizes that are available for your project so you can make an informed decision when you purchase your own. 
We'll also go over the basic steps of roofing felt installation, and share some tips for getting the job done right the first time.
 
We offer a comprehensive source so you can get the information you need before making your roofing felt purchase.